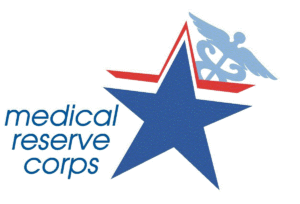 What is the medical reserve corps?
The Medical Reserve Corps (MRC) is a national network of volunteers that are organized at a state, regional or local level to improve the health and safety of their communities. The National MRC Program is overseen by the Administration for Strategic Preparedness & Response (https://aspr.hhs.gov/MRC/Pages/index.aspx).
North Carolina's Healthcare Preparedness Program is the lead state coordination entity for MRC Units in North Carolina and oversees the North Carolina State Medical Response System (SMRS). The SMRS provides support to an overwhelmed healthcare system by supplying necessary equipment, assets and/or personnel needed to provide medical care specifically during emergencies and disasters. Inclusion of our Medical Reserve Corp Units across North Carolina in the SMRS is an integral part of our program's vision to "To Build a Prepared, Resilient and Sustainable Healthcare Community."
MRC STTRONG Cooperative Agreement Details
ASPR recently announced an award of $50 Million to Strengthen the Medical Reserve Corps across the country: https://aspr.hhs.gov/newsroom/Pages/MRC-STTRONG-June2023.aspx
North Carolina is excited to announce that we were awarded $1,800,000 as part of this project known as the Medical Reserve Corp – State, Territory and Tribal Nations, Representative Organizations for Next Generation (MRC STTRONG).
North Carolina's MRC STTRONG project goal is to Bolster North Carolina's Medical Reserve Corp (MRC) Units as part of the NC State Medical Response System (SMRS).
To accomplish this goal, we are utilizing the following strategies:
Strong, Reliable, and Coordinated MRC Programs across North Carolina
Ensure ongoing recruitment and retention of dedicated individuals willing to support the MRCs in North Carolina
Robust and standardized training requirements for the State Medical Response System personnel inclusive of all MRC units in NC
Refine primary deployment types (sheltering, dedicated events etc.) for the MRC Programs based on gaps identified in the State Medical Response System and the state's risk analysis.
Improve mental health resiliency for all State Medical Response System Staff
To learn more about North Carolina Healthcare Preparedness MRC-STTRONG Funding Opportunities please review the MRC Grant Project Process.